Attractions and Activities
The Chinese Temple


This Chinese style temple is found in the northwestern part of Phangan island and it has a short but interesting history. A women named Khun Malawan visited the island in the early nineties and in a dream she experienced a revelation. The dream was the influence for a fund that in 1992 resulted in the temple.




Wat Phu Khao Noi


Wat Phu Khao Noi is the oldest temple on Koh Phangan and the name means "The temple of the small mountain". You will find this small mountain (which is more of a hill) on the South-West of Koh Phangan, not so far from Thongsala (the main town of the island). If you want to meet a temple monk, we recommend you to visit the temple before noon.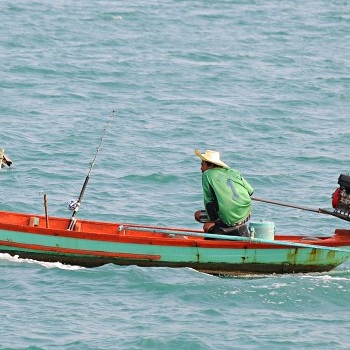 FISHING OUTSIDE THONGSALA - Photo by Jens W, Yenit.com

Phaeng Waterfall


One of the largest waterfall on Phangan is called Phaeng and you can get there by walking on a steep mountain path. The waterfall is by obvious reasons more visually attractive after rainy weather.




Thaan Sadet Waterfall


Thaan Sadat (or: Than Sadat) waterfall is found on the east side of Koh Phangan and it can be a little difficult to reach because of the terrain. Several Thai kings have visited the waterfall and engraved their signatures onto the nearby cliff.

The cool water of Thaan Sadet is very suitable for a swim during the hot months in Thailand. Please notice that the dirt road that leads here are rather rough and it might be wise to hire a experienced driver, rather than to go there yourself on a motorbike.




The Laem Son Sea


This beautiful sea is found in the northwestern part of Koh Phangan. The water is cool enough to attract many tourists looking for a refreshing bath. A few wooden swings and ropes is hanging from trees, but we suggest you to be careful while playing here. If you should get injured, it might take a long time before you get any professional help.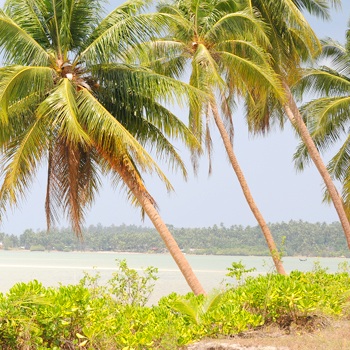 COCONUT PALM TREES - Photo by Jens W, Yenit.com

Khao Ra


Khao Ra is the tallest mountain on the island and it's peak reaches 630 meters above sea level. Several small paths makes it possible to reach the top by foot. We recommend you to also visit the Phaeng Waterfall on your way up. Please bear in mind that parts of the path is rather rough, due to the terrain conditions.




Activities
Scuba Diving and Snorkeling


Large coral reefs and clear waters makes the diving a sensual experience, although Koh Tao (north of Phangan) is considered as better (also, there are more diving centers on Koh Tao). We therefore recommend you to visit both islands during your vacation, if diving is high on your holiday agenda.

The island of Koh Ma is located just north of Mae Had Beach and is ideal for those who like to snorkel. There are beautiful coral reefs found here and quite a lot of fish too.

Sail Rock is located north of Koh Phangan and these waters is the home for both whale sharks and barracuda. If you're looking for an international diving certificate (PADI, etc.) there are several diving centers with certified instructors to be found in Koh Phangan. Many of diving schools have their offices in the areas around Had Rin, Had Yao (west coast), Chaloklum and Thongsala.




Mountain Biking


If you enjoy cycling, Koh Phangan is a good place for this activity. There are many off road routes to choose from, but remember to always use a helmet as the roads are rather rough. Mountain bikes can be rented at several locations around Koh Phangan, such as in resorts and at a few stores in Thongsala and Had Rin.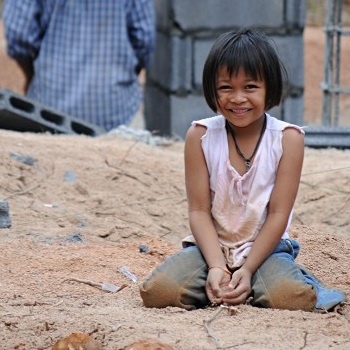 GIRL ON CONSTRUCTION SITE - Photo by Jens W, Yenit.com

Boat Trips and Fishing Trips


A boat trip around the island is a relaxing adventure. You can also go on a tour to explore the stunning surroundings of Koh Phangan and/or enjoy the underwater life while snorkeling. Most hotels and travel agencies offer these boat trips so just look for billboards, brochures and signs. Prices vary depending on the type of boat.

Fishing tours are normally also offered by the same organizers. If you are lucky you might catch both mackerel and barracuda on your trip.




Kayaking or Canoeing


Another way to explore Koh Phangan is from the sea. Just rent a kayak or canoe and paddle out straight from the beach. The kayaks are available for rent at most beaches. Remember to use plenty sunscreen when you are on the sea as the sun is strong at this altitude.


THE OLD MAN AND THE SEA - Photo by Jens W, Yenit.com

Wakeboarding and Kiteboarding


Wakeboarding is available at Chaloklum Bay in northern Koh Phangan. One of the companies that offer this activity is called "Wake Up" and they have experienced and talented instructors. Kiteboarding (or kitesurfing) is available in Ban Tai (southwest Phangan).




Trekking


Koh Phangan's almost unexploited midland is ideal for daily trekking tours. Small mountain roads brings you to the island's highlands. To reach the highest top, we recommend you the hiking trail that starts at Baan Madeuawaan.

The final destination is called Khao Raa, 627 meters above the sea. Hikes with a local guide can be arranged.




Paintball


Paintball is an adrenaline-pumping activity available on Koh Phangan. Paintball Warfare offers a two rai (3200 square meters) field and it is situated close to Thongsala town, on the west coast.




Beach Volleyball and Beach Football


These two activities are popular during the late afternoon when the sun's strength begins to decrease slightly. Both these activities will give you a tan (when the weather is ok), great exercise, and hopefully some fun at the same time.




Thai Boxing, Yoga and Brazilian Ju-Jitsu


The Horizon Muay Thai Boxing Camp is reachable by boat and is located relatively close to Haad Rin on the southern part of the island. Horizon offer Thai boxing training but also cooking classes as well as massage courses.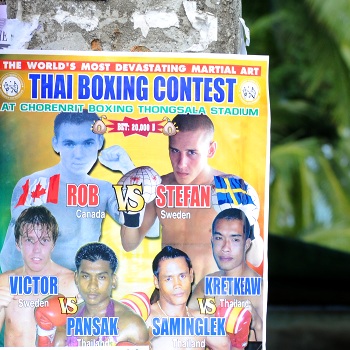 THAI BOXING EVENT POSTER - Photo by Jens W, Yenit.com



Well-established Jungle Gym offers everything from single training sessions to monthly courses for the long term visitors. Here you'll be able to participate in traditional Muay Thai training or / and BJJ (Brazilian Jiu Jitsu) classes. The gym also offers fitness classes, a gymnasium facility, yoga classes and also a juice bar.

The Jungle Gym has two branches. One in Haad Rin and one in Thongsala, where you also will find the largest Thai Boxing arena in Phangan.

The Arena Gym is a gym located close to the Had Rin Nok Beach. Here you can get help from a personal trainer who will help you with the strength training, yoga or Thai boxing. All free weights and all machines are of good quality. The Arena Gym also has a full-size boxing ring.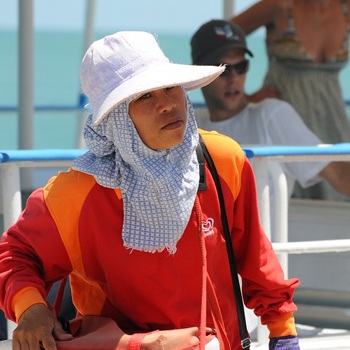 SELLING WALL'S ICE CREAM - Photo by Jens W, Yenit.com

To Rent a Motorbike


It is convenient to go around the island by bike, but also a little risky. The traffic is not that intense, but the roads on the steep hillsides are often not that good. Beware of gravel and sand on the road, especially in the curves.

Anyhow, many choose to rent a bike because of the feeling of freedom and the affordable prices. The price for renting a 100-125" motorbike starts from about 150-200 baht per day.

Do always use a crash helmet and do never drive drunk! You probably do not want to spend your holiday in a hospital, or even worse!




Walking and Hiking


Koh Phangan is an island which is perfect for walking and hiking. You might combine the sightseeing with some exercise and get tanned at the same time. You can either go along the main road, or in more hilly terrain on trails, etc. However, you should always carry a map if you're not familiar with the area. Please consider the following:

1. It is often really hot in Thailand. Bring plenty of water or buy it frequently at a convenience store etc. that you pass during your walk.

2. Use mosquito repellent, especially on your ankles and calves. Keep in mind that the day-active Asian Tiger Mosquito can transmit dengue virus if you have really bad luck. Dengue fever can be a nasty disease and result in high fever and internal and external bleeding, etc.

3. Make sure to get back before sunset. If you're in the middle of the jungle when it's getting dark, it might be hard to find your way back. The sunset occurs between 6:30 pm and 7:00 pm, depending on the season.

4. Bring a good (but not too big) map of the island in order to avoid you from getting lost. You can easily find attractions along the way if you have a map.

5. Walk on the right-hand side of the road so you will face the traffic and avoid potential speed maniacs. Some people drive rather careless here, so caution is recommended.

6. Use sunscreen on your bare skin if it's sensitive. Many people get sunburned in Thailand due to inexperience. Burn blisters and bright red skin is neither healthy nor beautiful.

Have a great stay on this stunning island!




Like us on Facebook