The Full Moon Party on Koh Phangan
Nearby Accommodations


Below we are listing hotels nearby or on Had Rin Beach, where the Full Moon Party is held. Our booking system is secured and safe. Book your Full Moon Party accommodation here:





Background and Information


The Full Moon Party started with a few backpackers just having a small party with a tape recorder on Haad Rin Nok in the 80's. They danced in the moonlight and just had a great time. More and more people turned up every month.

Nowadays the event is attracting 6000-14000 participants per session, depending on the season. These people dance, party and have fun together all night long. The music is varied and most of the time you'll able to dance to techno, trance, drum n 'bass, psychedelic, jungle, disco, hardcore, but even more commercial dance music (commonly played on the radio and MTV).

Experienced Dj's are delivering the music from the restaurants and bars at Haad Rin Nok. There are often various shows on the beach itself, including fire juggling, dancing on stilts, acrobatics, etc.




When is the Party?


During every full moon, if it's not a Buddhist holiday or an important election, etc. The approximate dates of the festival are found in the column to the right. You can get the exact date confirmed in any travel agency etc. when you're on Koh Phangan.




Where is the Party Held?


On the beach of Haad Rin Nok which is located in the southernmost part of Koh Phangan. The island is situated in the province of Surat Thani in Thailand.




Safety during Full Moon Party


It's not dangerous to join the Full Moon Party, but it's dark and you will probably meet up with a bunch of people (of whom some are really drunk), you should be a little "beach-smart".

Use a pair of proper shoes or sandals so you do not ruin your holiday by stepping on a broken bottle or other glass. This happens, unfortunately, from time to time with varying severity. Such damage to the tendons and muscles can be a really unpleasant experience.

Do not swim if seas are rough or if you are drunk. It is (obviously) "inappropriate" to smash your head against a rock or the coral reef.

Do not accept drinks or food from people you do not know. Although it is rare, some people have been drugged by this.

Keep your valuables in a safe place. Theft may occur in all tourist destinations. The thief has obvious advantages in this enormous crowd.

Fortunately, the vast majority of party people are generally happy and very friendly during this huge event, and trouble or fights are rare. If someone, contrary to expectations, gets rude, just walk away, or in severe cases, call for the staff, security guards or the police.




About Illegal Drugs


Unfortunately, this party has (and is) been associated with some drug and substance abuse. Both uniformed and plainclothes police officers are patrolling to intervene if they suspect any drug dealing etc.

Even very young people may be sentenced to long prison terms if they get involved with drugs in Thailand. To spend time in a Thai prison is "short of fun". The inmates sleep directly on the hard floor, among many other prisoners in the same prison cell.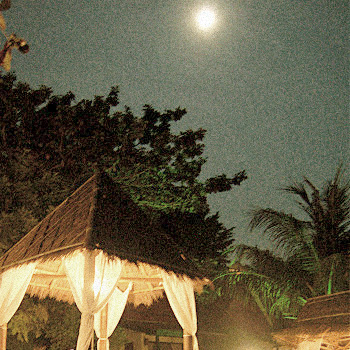 HUT AND FULL MOON - Photo by Jens W, Yenit.com

How do I Get to the Party?


If you are traveling from the mainland, Koh Phangan is easily reached by a ferry. The ferries depart from Donsak which is located about 50 kilometers from the city of Surat Thani.

If you are coming from Koh Samui there are several ferry operators to choose from. The piers on Samui are found in Bangrak and Maenam, located in the northern part of the island and the piers on Koh Phangan are found in Thong Sala and on the west side of Had Rin.

If you're coming from the north, e.g. from the capital city of Bangkok, you can take a bus from the southern bus station in Bangkok, or from Khao San Road (famous "backpacker street") to Surat Thani and then a ferry to Koh Phangan. Tickets are available at almost all travel agencies or directly at the bus station.

It is also possible to travel by train from Bangkok. The railway station in the capital is called Hualampong and there are sleeping cars in which you are able to get a good sleep before you arrive at the train station in Surat Thani. Train tickets can be purchased at any travel agency in the capital or directly at the train station Hualampong. Be aware that the trains might be fully booked.

The ferry and tour operator Lomprayah offer buses to Chumphon and then catamaran via Koh Tao to Ko Phangan. Tickets are available at travel agents in Bangkok, but also from Lomprayah's website.




Full Moon Party Dates
2013

January 26

February 26

March 26

April 25

May 25

June 23

July 24

August 21

September 19

October 19

November 17

December 17

December 25 (Christmas party)


December 31 (New year´s party)




2014

January 15

February 15

March 15

April 14

May 14

June 12

July 13

August 10

September 8

October 10

November 6

December 6

December 25 (Christmas party)


December 31 (New year´s party)

Important! We are not the organizers of this event. Some of the dates above might be incorrect. Please check with any travel agency prior to the party.




Like us on Facebook